24v 100ah Battery Deep Cycle Lifepo4 Battery Pack
LiFePO4 technology offer high-power cell performance, which can deliver more power and extend life in lots of lead acid replacement application. If you are interested in this 24v 100ah battery, please don't hesitate to contact us at any time. In addition to the battery shape and temperature conditions, we can customize specifications and BMS: voltage, capacity , charge current, discharge current and etc.
Normal Performance

3.2Ⅴ100Ah

Casing material for single cell

Standard capacity(0.2C5A)

100Ah

25.6V

(Work voltage:25.6V)

(Single Ave. charge Voltage:3.65V)

2.50V(Single Ave. Discharge Voltage)

1C

Max Continuous discharge current

100A

1C

200A

2C 10seconds

520±1*267±1*218±1mm

(Approx.)Total weight(Approx.)

About 23kg

(Max, at 1000Hz.)Impedance(Max, at 1000Hz.)

 (CC/CV)

Charge method (CC/CV)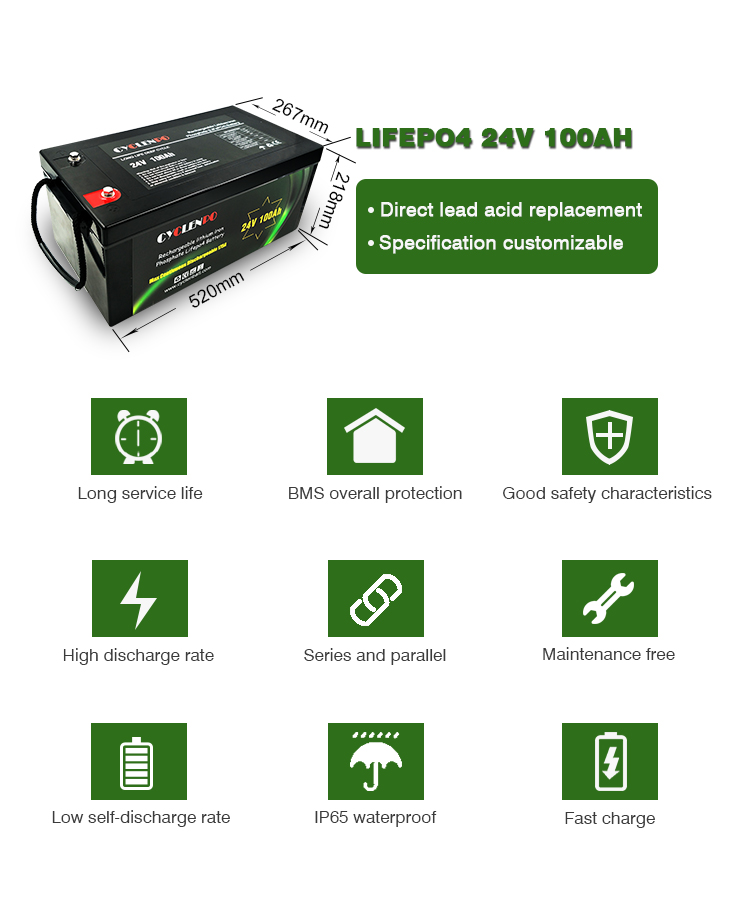 Key Features of Lifepo4 24V 100Ah Battery 
Longer service life. More than 3000 cycle times..About 7-8 years lifespan.

Plug in replacement of lead acid battery

High discharge rate capability.Max continous discharge 175A. Peak discharge 320A

Support parallel and series to make higher voltage and capacity.

Fast charge.Can be safely rapidly recharged in 1-3 hours

Lighter weight. About 1/3 the weight of lead acid.

Maintenance free

Low self discharge rate. Lower than 3% monthly

Deep cycle. Can be 100% deep discharged.

IP65 waterproof rating.Suitable for marine use

Safest performance. Lifepo4 is the safest lithium material. No fire or explosion
BMS Built in 24v 100ah lithium ion battery
Over Charge Protection

Over Discharge Protection

            

Over Current Protection

Short Circuit Protection

Thermal Protection         
Wide Range of Application of Lifepo4 Modules
LiFePO4 Battery Modules Cyclen Supply
Model

Rated Voltage

Nominal Capacity

Dimension

Weight

CY-LFP-1250

12.8V

50Ah

195*165*175mm

7kg

CY-LFP-12100

100Ah

328*171*215mm

12kg

CY-LFP-12120

120Ah

328*171*215mm

15kg

CY-LFP-12150

150Ah

405*175*240mm

20kg

CY-LFP-12200

200Ah

520*238*218mm

22.5kg

CY-LFP-12240

240Ah

495*268*219mm

27kg

CY-LFP-12250

250Ah

495*268*219mm

28kg

CY-LFP-12300

300Ah

520*267*218 mm

33kg

CY-LFP-2450

25.6V

50Ah

328*171*215mm

13kg

CY-LFP-24100

100Ah

520*267*218mm

23kg

CY-LFP-24120

120Ah

520*267*218mm

30kg

CY-LFP-24150

150Ah

495*160*295mm

35kg

CY-LFP-24200

200Ah

410*370*200mm

43kg

CY-LFP-3650

38.4V





50Ah

483*170*240mm

22kg

CY-LFP-36100

100Ah

520*267*218 mm 

33kg
The products we display don't represent the limitation of us.We can customize other battery specifications like:
Voltage

Capacity

Charge current

Discharge current

Battery shape

Temperature condition
and etc. If you are interested in our products, please don't hesitate to contact us at any time.We will work out
the perfect battery solution for you.

     Cyclen is a chinese lifepo4 battery manufacturer specialized on producing high performance lithium lifepo4
     battery packs and custom battery solutions.We have exported our battery packs worldwide for years.If you
     are looking for lead acid/gel/agm replacement battery, we can be your reliable supplier.
OEM&ODM manufacturer with various design and one-stop battery solution.

Reliable quality; Factory direct price; Complete production lines.

Timely and professional pre-sales service and after-sales service. 100% test before shipment;

Solid package; Fast delivery and stable shipment.

Where can I get the price of the lithium 24v 100ah battery?
         Battery price depends on your quantity and specifications. Welcome to contact the Online Services.
         If it's not our working time, please "Leave a Comment" below about your requirement.
         We will offer you the best quote in 24 hours after we get the product specifications  such as voltage
         capacity application etc.
What about the lead time for mass production?
         It depends on your order quantity.Normally 1-2days if we have sample in stock, 5-7days for newly
         produced samples. 10-20 days for big order.
What shipping method can I choose? How about the shipping time?
        Our sales will help you choose the most cost-effective shipping methods.
        By Express (3-10 working days), suitable for urgent time or small quantity.
        By Sea (15-30 days), it suitable for mass production.
        By Air (4-7 days), from airport to airport.
What is the package? Is that safe?
        We pack one battery in one carton box, and filled with EPE foam on the top and at the bottom.
        For heavier battery, we adopt wooden case.And our shipping agent has full experience in safe
        transportation. We will send you pictures of the packaging before battery shippment.
What's the warranty? How can I get support after purchasing batteries?
        Usually 2-3 years warranty (Depends on different battery model) .And we offer online support by email,
        skype, whatsapp or wechat etc. If you meet problems, we have our own engineers to provide technical
        guide.
     

 

HAVE A QUESTION?
LEAVE US MESSAGE BELOW .