entry name
technical parameter
remarks
Number of batteries
8448
-
Nominal energy

(MWh)

2.7
0.25C
Nominal voltage (V)
1126.4
352 × 3.2V
Nominal capacity (Ah)
2400Ah
-
Working voltage

range (V)

950.4~1267.2
352 × (2.7~3.6V)
Standard

charge-discharge

ratio (C)

0.25C
-
Service life (years)
>15
0.25C 90%DOD
Optimum operating

temperature range

10℃~35℃
-
Allowable operating

temperature range

—35℃~45℃
 -
Operating humidity
5%~95%
 -
insulation resistance
>20MΩ
 -
Dimension of BESS

container

6058*2438*2896
 -
Number of battery

Racks

6+1 (combiner cabinet)
 -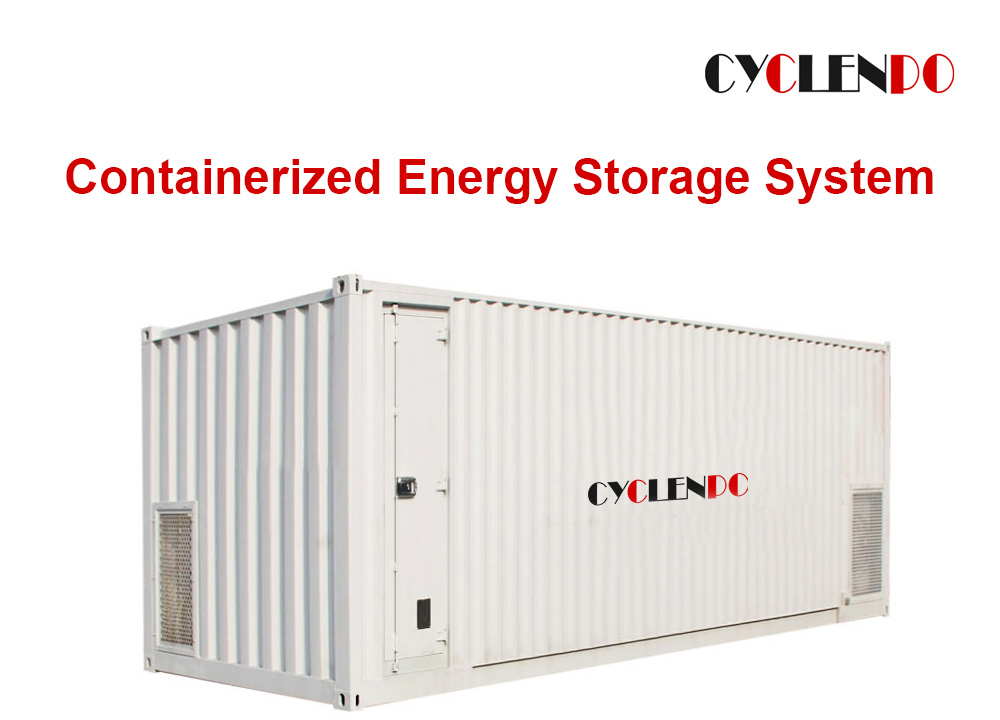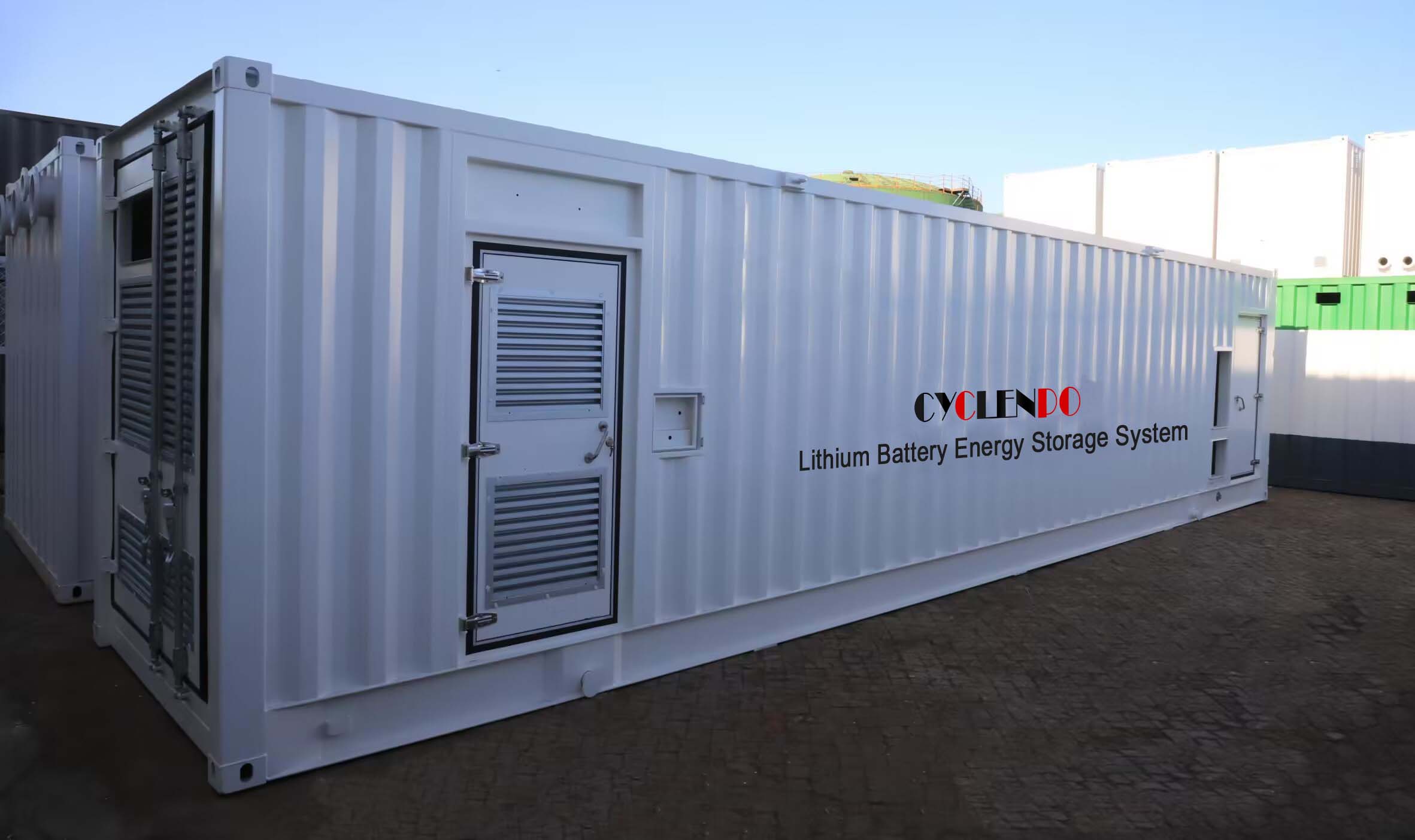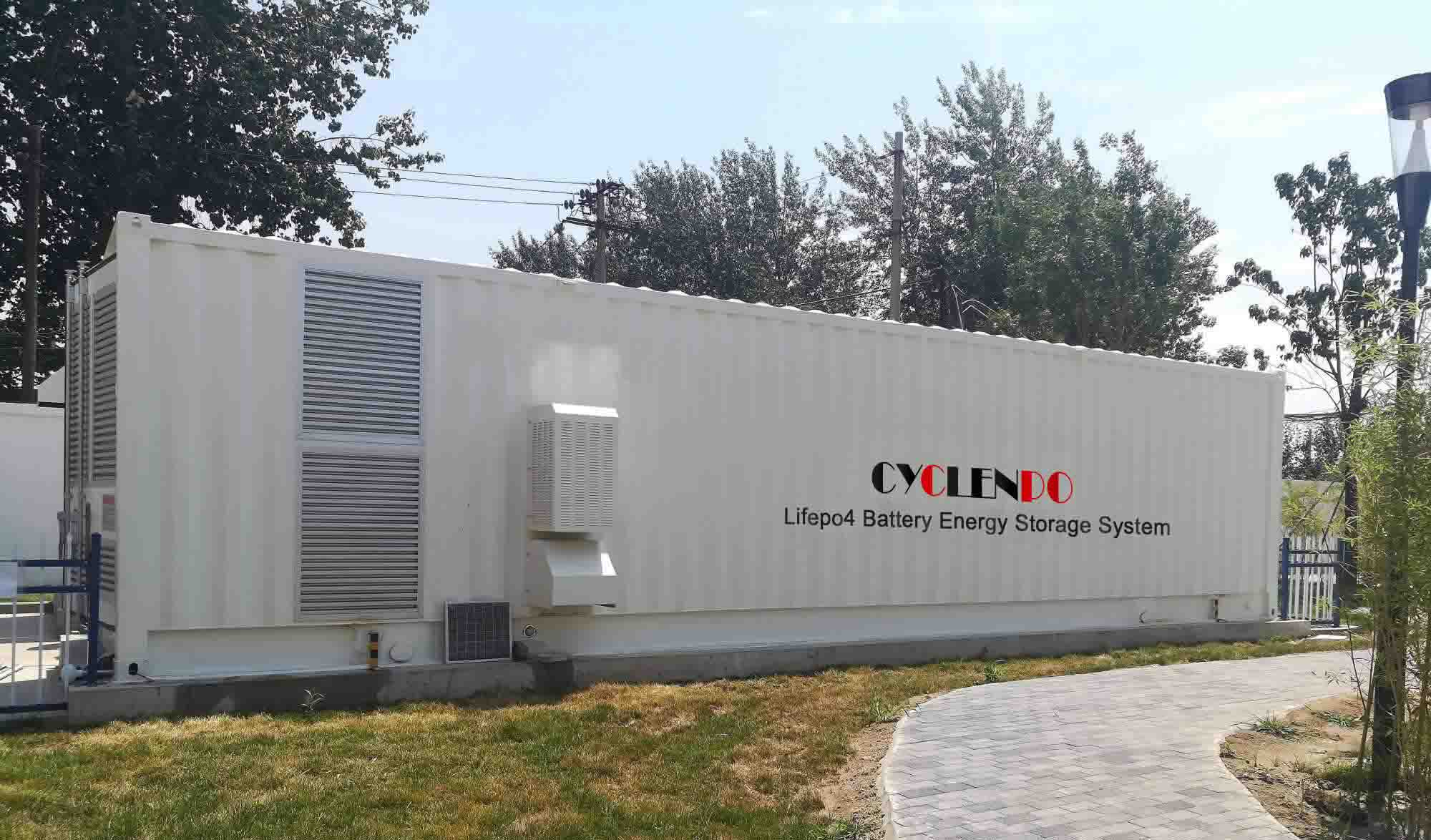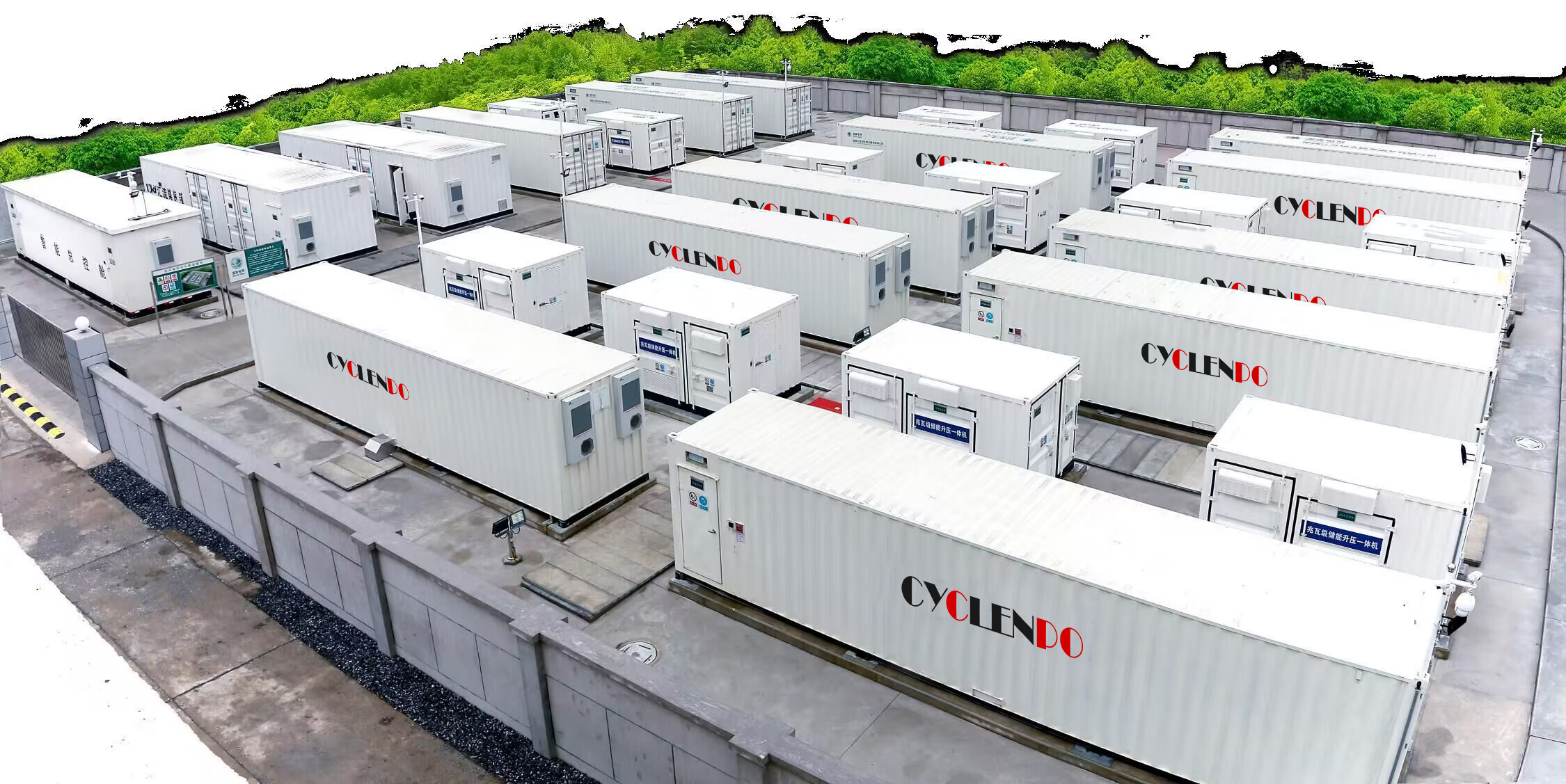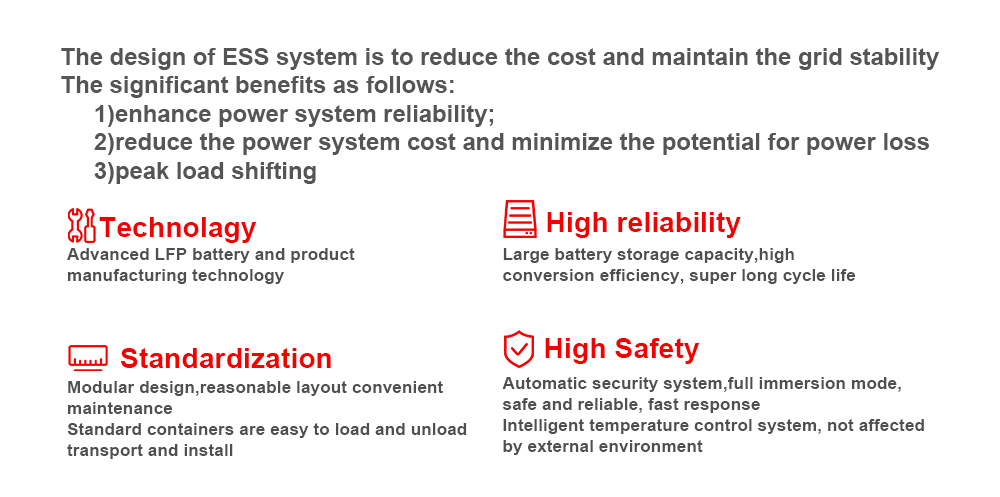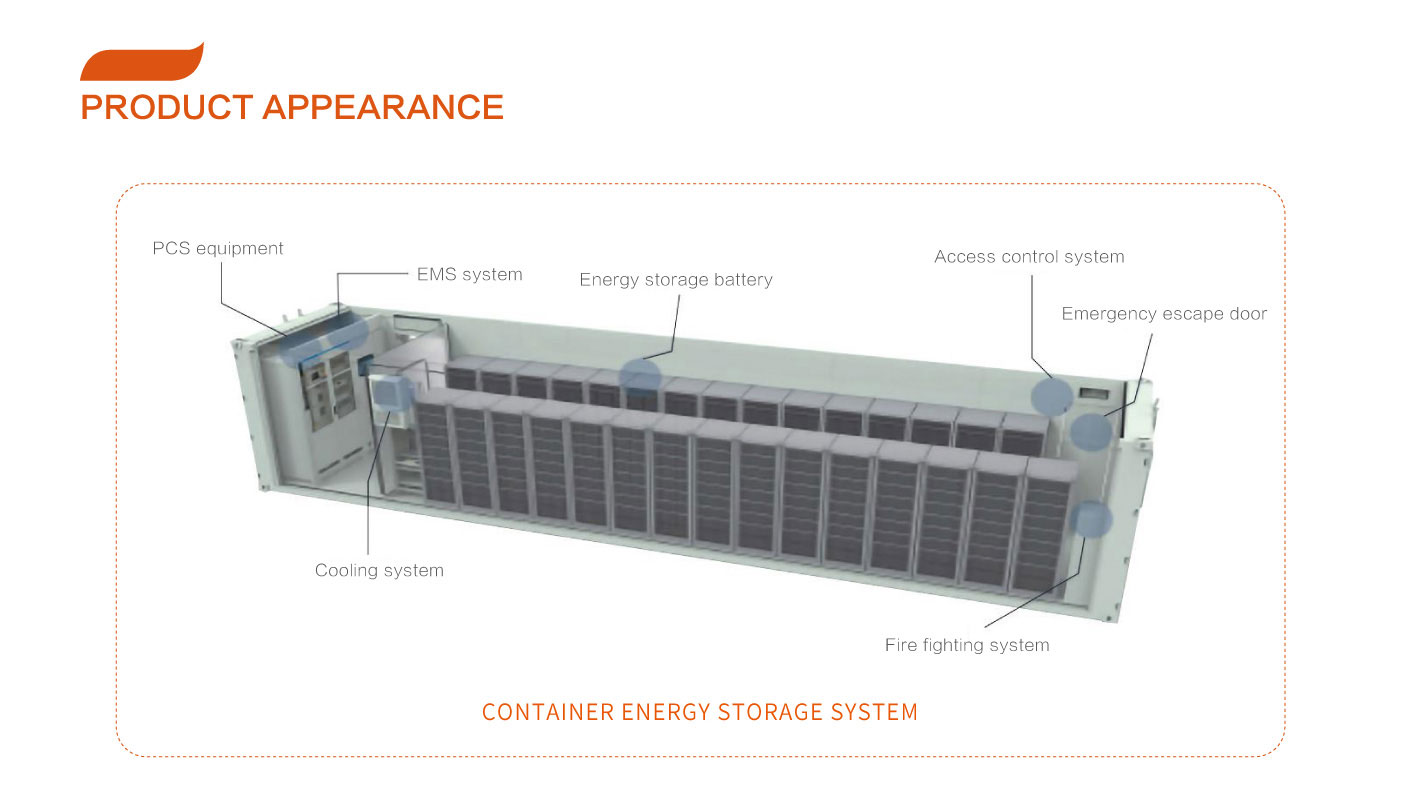 Battery energy storage systems Description:
The off-grid photovoltaic power generation system is a new type of power source that generates electricity from photovoltaic components, manages the charge and discharge of the battery through the controller, and provides electrical energy to the DC load or the inverter to provide electrical energy to the AC load. It is widely used in plateaus, islands, remote mountainous areas and field operations where the environment is harsh. It can also be used as a power supply for communication base stations, advertising light boxes, street lights, etc.
Performance characteristics:
1. The use of photovoltaic systems can achieve better utilization of renewable energy;
2. Has a high system practicability;
3. Compared with a system with a single-use diesel generator, it has less maintenance and uses less fuel;
4. Better flexibility in load matching. Photovoltaic systems can be applied to a wider range of load systems, for example, larger AC loads, shock loads, etc. can be used. It can also better match the load and the power generation of the system.
battery energy storage systems Advantage:
1.Integrated Design for Energy Storage
2.Lithium Battery Design with BMS/EMS
3.Factory Automatic Emergency Backup
4.Automatic Diesel Generator Supplement
5.High ROI for Selling Energy to Utility
Application
Mainly used for off-grid solar system storage, telecommunication, BTS, central data center, General macro base station, New energy base etc.

1.OEM&ODM manufacturer with various design and one-stop battery solution.
2.Reliable quality; Factory direct price; Complete production lines.
3.Timely and professional pre-sales service and after-sales service.
4.100% test before shipment; Solid package; Fast delivery and stable shipment.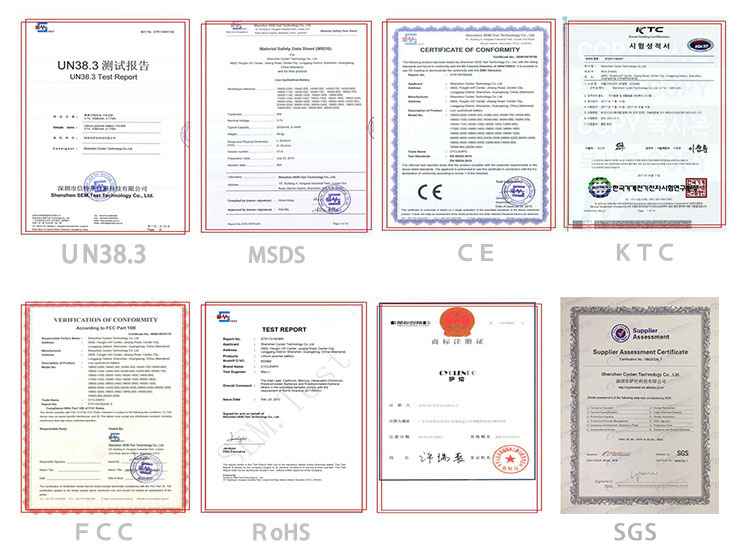 1.Where can I get the price of the 20ft battery energy storage systems?
   Welcome to contact the Online Services. If it's not our working time,
    please click "Send Inquiry" above or "Leave a Comment" below,
    We will offer you the best quote in 24 hours after we get the product specifications
    such as voltage capacity application etc.
2.How can you guarantee your quality?
   Normally we will send you a sample to confirm everything first.
   We will make the big order exactly the same as you request.
3.What about the lead time for mass production?
    It depends on your order quantity.Normally 30days if we have sample in stock,
   40days for newly produced samples.60dayscontainer energy storage system for big order.
4.What shipping method can I choose? How about the shipping time?
    By Express (3-7 working days), suitable for urgent time or small quantity.
    By Sea (15-30 days), it suitable for mass production.
    By Air (4-7 days), from airport to airport.